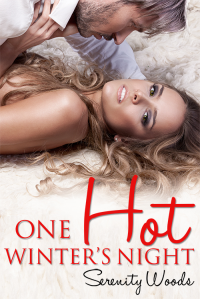 Title: One Hot Winter's Night
Series: N/A
Author: Serenity Woods
Genre: Romance, Erotica
Blurb: Indiana Jones meets Lara Croft in a hot, desperate treasure hunt that spans the globe and captures the imagination.
Dr. Cat Livingstone works for the British Museum, and she's frustrated as hell when the mysterious man she knows only as the Silver Fox snatches yet another artefact from under her nose. Determined to steal the priceless necklace back, she tracks him to the Swedish Ice Hotel, but she doesn't bank on him being the most gorgeous guy she's ever laid eyes on.
Heath has no idea that the hot blonde in the ice cold hotel has ulterior motives. But when a night between the sheets ends with both Cat and the necklace gone in the morning, Heath jumps into action. Unfortunately for Cat, Heath lives for the thrill of the chase. And the chase is on.
Thoughts: This book provided a nice change of pace to the books I have read lately. It was literally like a breath of fresh air. The story was so well written, sweet yet sexy at the same time, and just so intriguing. I loved it!
The author manages to strike all the right chords with this book. The intimate scenes are sexy, yet tender. I didn't really consider it erotica, but the lines seem to get blurrier and blurrier when it comes to that distinction anymore. Cat is innocent, yet also jaded, which adds a certain something to the book. And Heath is so determined to win her over for the long term, but manages to play it cool enough to keep her from guessing his true intentions. They fit together so well, and each scene has a certain poignancy to it that just makes it a wonderful read.
The blurb certainly has it right when it compares the characters to Lara Croft and Indiana Jones. You can definitely see that, especially when it comes to the whole artefact/treasure hunting aspect of the novel. However, it has a lot less action compared to the movies, if that's what you're looking for - and there are some differences between the characters. Cat's innocence for one - and for me, Heath was a bit more polished than Indiana Jones. He was kind of a mix between Indiana Jones and James Bond - at least personality wise.
But I would definitely recommend this book. If you're looking for a light refreshing read, with a sweetness underlying the intimacy, this is a perfect choice!
Rate: A
Review by: Sarah
http://www.thebookreadinggals.com