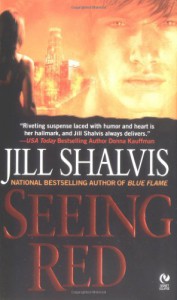 Title: Seeing Red
Series: Firefighter bk 3
Author: Jill Shalvis
IT ONLY TAKES A SPARK
Summer Abrams left everything behind-the warehouse fire that took her father's life, the town where her world fell apart, and her best friend in the world, Joe Walker. All she carried with her was guilt. Now, twelve years later, another fire has devastated the same warehouse, and Summer returns to Ocean Beach to search for answers. But what she finds first is an old flame that never went out . . .
Joe Walker has become the town fire marshal-sexy, strong, and an expert at keeping people at bay. The only person he ever let into his heart broke it and left town without a word. Now that she's back, Joe swears he won't fall for Summer again . . . but the heat between them is irresistible. As he tries to help her heal the past, can he take a risk on building a future with Summer?
The emotions I felt coming from the pages while I was reading this book were off the charts! Joe's love for Summer was a living breathing thing in this book. I felt his longing, fear and unhappiness. Summer was a little more closed off but as the book progressed you feel her longing to belong and her confusion on how to make that happen… at the same time I wanted to smack her upside the head and tell her to wake up and take the gift of Joe's love that was staring her in the face!!
I was drawn to the under lying story of Summer's family dysfunction that came from losing her father at such an impressionable young age and how this loss influences Summer and her mother and then spreads to the relationships with her aunt and cousins. It was an interesting look at the ripple effect that a major life event can have on all those involved. The contrast to Joe's lack of family life was a great comparison throughout the book.
Throw in a little danger and suspense and who-done-it and this was a perfect 4-star read!
I know that this is a re-issue but I did not feel like the content was dated at all. A thoroughly enjoyable read by the always awesome Jill Shalvis!
Grade: A
Review by: Jeananna
- See more at: http://thebookreadinggals.com